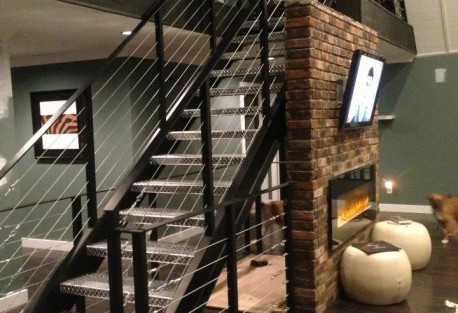 A client who owns a local trucking company wanted to install some custom architectural stairs in his brand new custom-built home. We also needed to have them completed before Christmas so his wife could show them as part of their holiday entertaining.
We designed the stairs to have a modern look complete with checkerplate treads to reflect his trucking business, plus cable railing accents. We built the stairs in our shop, and then installed them in his home, being careful not to damage existing tile work and a brick fireplace feature.
Hell 'N' Back founder Doug Thompson has worked on many custom homes in the past, especially in Calgary where he was responsible for creating and installing several architectural accents in homes including some large mansions. We're always looking for more creative and interesting projects like this, whether the style is modern or the client wants ornamental ironwork of the quality and craftsmanship more common 100 years ago.