Lugging cats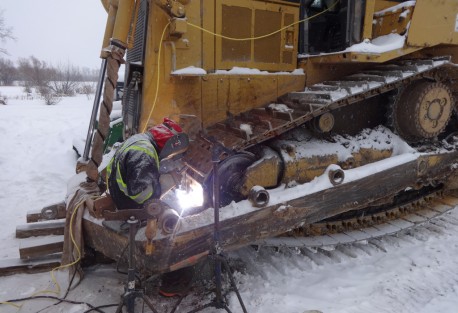 Every year Hell 'N' Back Welding helps local companies in the Peace region of Canada prepare their equipment for winter by installing a series of "lugs" or "corks", which essentially act as cleats on the equipment tracks to help them grip on snow and ice. Here in the Canadian north we can see temperatures dipping into the low -40s C, and repeated snowstorms for up to 8 months of the year, but winter is also the busy season in the oilfield thanks to the use of ice roads, so local companies need to be ready to handle whatever the weather throws at them and keep going during the rush.
The lugs wear out over time, and need to be replaced regularly. Each piece of equipment requires hundreds of them installed each year, and we commonly lug several packers, track hoes, and different sizes of Caterpillars each fall. We lug Cats both in our own shop and on site in the field as needed.
Here's a video explaining the process:
What Does Lugging a Cat Mean?