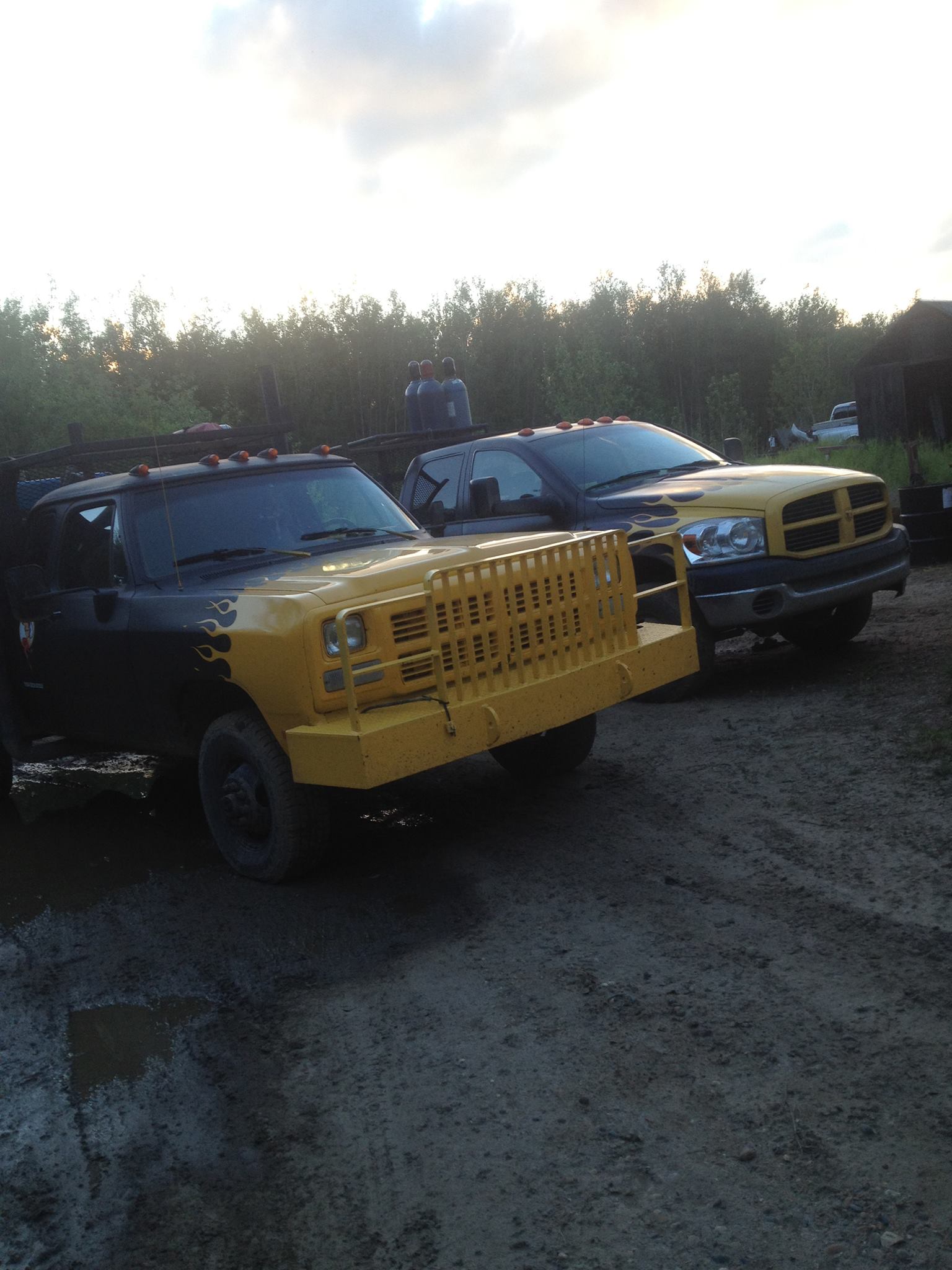 These days, it seems like every welding apprentice and helper out there wants to rig up right away. But even experienced weldors can have trouble with the transition from employee to business owner. Hell 'N' Back started as a single portable welding truck 10 years ago, and we've never stopped running welding rigs here in Alberta, doing everything from oil rigs to structural to agricultural. We've also met all kinds of other rig weldors along the way and seen their successes and failures.
Here are some of the things we've learned.
1) It's More Expensive Than You'll Expect
It's pretty easy to spend anywhere from $20,000 to $100,000 or even more rigging up a welding truck. You need a reliable truck that can carry some weight and handle rough roads, plus some sort of skid unit, plus a decent welding machine, plus tool boxes, tools, bottles, safety equipment – the list goes on and on and none of it is cheap. Of course you can start by just throwing a welder in a crappy truck, but the more prepared you are, the better equipped you'll be for a wider variety of different types of work.
You might also be required to make modifications to your truck, like adding air shutoffs, radios, flags, etc., just to get on some sites. You'll need to register your business and business name. You'll also need to get insurance, not just for your vehicle but usually $2 million liability for your business itself, which is expensive for welding since it's a dangerous and high risk profession.
Once you're up and running, you'll start burning through supplies like welding rod, not to mention gas or diesel and travel expenses, and you might not get your first payment from a client in for at least a few weeks at least, so you'll need some money to live on until that happens. You might convince a family member or two to help you out with getting started up, but a single welding rig is not something any serious investor is going to drop money into. In other words, before you rig up, it's wise to save up.
2) Welding is a Very Competitive Market
We like to say here at Hell 'N' Back that you can spit and hit another weldor. The welding business in western Canada is incredibly competitive, and anytime you get work, that means you had to take it away from one of hundreds to potentially thousands of other guys with welding trucks, or the even larger companies who have entire fleets. They're not going to just hand you that work. You'll have to look for it, and once you've got one job, it's always a search for the next. It's a transient trade too, so you're competing not only with local weldors, but with weldors from across the province or from across the country.
When you first start out, almost no one will know who you are or why they should hire you. It's important to take some time and think about things like: What sets you apart? How will prospective clients find you and how will you convince them to hire you instead of the other guys on their list? Will you put any money into advertising or marketing? Do you have some potential clients you can tap when you first head out of the gate? And once you get a client, how will you get their repeat business? In welding, remember: you're only as good as your last job.
3) Running a Business is a Lot Different Than Being an Employee
Of course it is, you might be saying to yourself. But are you really prepared for the life of an entrepreneur? If you're used to a regular paycheque, that's all about to change.
For one thing, you'll need to set aside taxes every month instead of someone else just deducting them off your cheque for you. Pay periods will also vary from immediate payment from some clients to payment months down the road from others. Even clients who pay you regularly at first might suddenly stop paying due to all kinds of factors, from a large company merger than affects pay periods, to an expansion that leaves them short of funds, to a change in bookkeeping staff. You might have tens or even hundreds of thousands of dollars in receivables at some points, but if that one big cheque doesn't actually come in on time, you might still find yourself struggling to find enough money to pay your bills. Finding and keeping the clients who pay well and pay on time is a big part of the struggle of staying in business, where cash flow, not sales, is actually king.
Meanwhile, once you've become self-employed and don't necessarily have the ability to pay yourself a regular wage, it can affect everything from whether you can get a loan to whether you can make payments on your house, vehicles, and toys like quads or boats. Are you prepared to put the business first for a while in order to make some money with it, instead of treating it like your personal bank account? Do you even know how to write an invoice? How to quote? Are you ready to chase down people who owe you money? Are you ready to budget to make it through lean times and do you know how to manage your money? These are all things to consider carefully and plan for before taking the leap out onto your own.
4) There's a Lot of Paperwork to Do (And Once it's Done, There's More)
When you start a new welding business, you can expect to suddenly have a lot of paperwork to do. To start, you'll be doing regular financial work like invoicing, bill payments, data entry, and reconciliations of your bank accounts and cheque book. Owning a business also means sending insurance certificates and WCB clearances to clients and potential clients, filling out safety paperwork, getting POs and invoices signed on site, and much more.
Plan to be organized. A pile of receipts in your truck is likely to get lost or ruined by water, mud, or your morning coffee, and that means those expenses will come out of YOUR pocket. Plus, not everything is a write-off! Finding a competent bookkeeper and accountant can save you a lot of money in the long term, so don't just assume your girlfriend will be able to handle it. Be ready to hire help where you need it. H & R Block probably won't have specialized knowledge of the welding industry you'll need, so do yourself a favour and look around for an accountant that does. We've seen many good weldors go out of business or even go bankrupt just because of poor paperwork and bad financial planning.
5) Certifications Matter
If we had a dollar for every guy who's told us he doesn't need tickets to weld, we'd never need to weld again. But the fact is certifications DO matter. First of all, it's not technically legal to weld in Alberta if you're not at least enrolled in the apprenticeship program, and if you are an apprentice, you legally need to be employed working under a journeyman who can check your work. There are certain required ratios to this, allowing one journeyman to oversee several apprentices, but you still need that journeyman over you. Businesses do fudge this quite frequently but it can lead to problems down the road if they get caught, especially if the welding work done without proper supervision fails or causes some sort of problem or even a fatality.
Above all though, certifications prove experience. Without them, potential clients have no way to know if you've been welding a day or welding 20 years, no matter how good you are. Big companies won't even look at you without them. Some companies will be happy to have you do the work but won't pay you afterwards when it turns out those certifications actually were required to be on their vendor's list. And if you want top rate, you'll never get it without the certifications to prove you deserve it. So while you might be able to work for people who don't care, you won't be making top dollar for doing that.
Certain types of work also require certain types of certifications. You might be a CWB structural welder but unless you get your company certified as well – a long and expensive process – it's not valid. If you want to work on oil rigs, bare minimum is usually a journeyman ticket and a B Pressure ticket. Most companies are now also requiring extensive safety certifications. Not only do you need individual tickets like H2S Alive, First Aid, CSTS, confined space, etc., these days they also want you signed up for ISNetworld.com and ComplyWorks, and SECOR/COR. It's possible to do some work without them, but only for certain clients, and every client has a different set of requirements. Before you go into business for yourself, decide what type of jobs you want and are best at, and then make sure to get your certifications for that kind of work and maintain them when they expire. It takes a lot of time, money, and paperwork, but it will mean you get more work and better paying work in the long run.
Ultimately, welding is a good trade and there is a lot of work out there for competent weldors. You should have every chance of success; but no matter what people think, it never comes easy and it's not just a license to print money. Any business takes hard work and careful planning if it's going to survive. Being prepared can mean you're still running your truck years later when those other guys have already burned out and faded away.